About Fortinet
Fortinet secures the largest enterprise, service provider, and government organisations around the world. Fortinet empowers its customers with intelligent, seamless protection across the expanding attack surface and the power to take on ever-increasing performance requirements of the borderless network—today and into the future. Shop Fortinet
Partnership with SHI
Fortinet is the most deployed, most validated, and most patented cybersecurity company in the world. Together, Fortinet and SHI provide a comprehensive and innovative portfolio to secure and simplify any organisations environment. Contact SHI
Fortinet for Sustainability
Fortinet products use less energy compared to peer products, as per a Fortinet R&D study conducted in 2021. Their years of dedicated innovation and the development of the industry's only security-focused processors have allowed them to integrate multiple security and networking functions into a single, energy-efficient platform. As a result, each new generation of products, uses less power, space, and cooling. On average, their solutions consume 3X fewer resources than traditional appliances while delivering up to 15X more performance. Their power consumption technology also ensures that each generation of Fortinet products consumes less energy than the prior generation..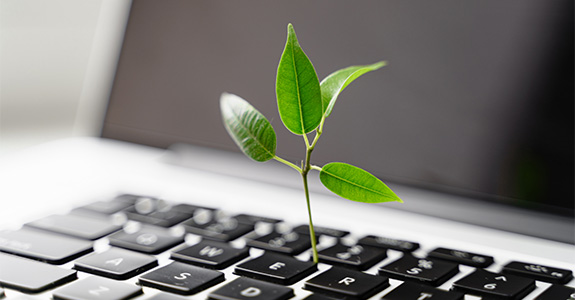 Fortinet for Education
How healthy is your network security?
Free Cyber Threat Assessment for Schools
Secure network architectures need to constantly evolve to keep up with the latest advanced persistent threats. There are two ways to find out if your solution isn't keeping up - wait for a breach to happen or run validation tests.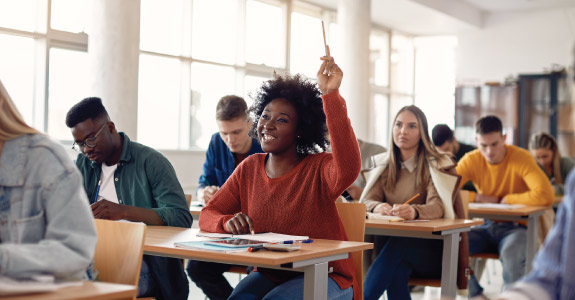 Ensuring Safe and Secure Digital Learning Environments
Digital Security, everywhere you need it.
The Fortinet Security Fabric is the industry's highest-performing cybersecurity platform, powered by FortiOS, with a rich open ecosystem. It spans the extended digital attack surface and cycle, enabling self-healing security and networking to protect devices, data, and applications. The Fabric is built on three key attributes:
Broad visibility of the entire digital attack surface to better manage risk
Integrated solutions that reduce the complexity of supporting multiple point products
Automated workflows to increase speed of operations and response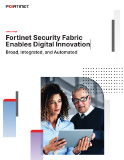 Fortinet Security Fabric Enables Digital Innovation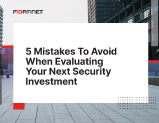 5 Mistakes To Avoid When Evaluating Your Next Security Investment
Security Driven Networking, everywhere you need it.
FortiGate next-generation firewalls are powered by purpose-built Security Processing Units (SPUs) and AI-driven FortiGuard Labs, delivering industry-leading threat protection and unmatched performance to reduce cost, complexity, and risk. With built in Secure SD-WAN, Fortinet's NGFWs uniquely meet the performance needs of hyperscale and hybrid IT architectures, enabling organisations to deliver optimal user experience and manage security risks for better business continuity.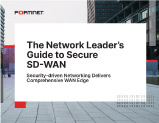 The Network Leader's Guide to Secure SD-WAN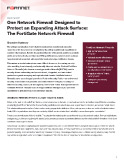 The FortiGate Network Firewall
Complete Endpoint Protection, everywhere you need it.
With the steady increase in the number and sophistication of advanced threats and ransomware, organisations must increase their security measures across the board, including their endpoints. FortiEDR delivers advanced, real-time threat protection for endpoints both pre- and post-infection that is lightweight and easy to deploy. With FortiEDR, security teams can boost endpoint security, thereby speeding up incident response, streamlining security operations, and avoiding costly disruptions to production lines and knowledge workers.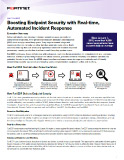 Boosting Endpoint Security with Real-time, Automated Incident Response
Increase Security with Zero-Trust Access Solutions
As users continue to work from anywhere and IoT devices flood networks and operational environments, continuous verification of all users and devices as they access corporate applications and data is needed.
To protect networks and applications, network administrators must implement a zero-trust access approach and provide least access privileges. Implementing zero-trust access includes requiring strong authentication capabilities, powerful network access control tools, and pervasive application access policies.
Adaptive Cloud Security, everywhere you need it.
Adaptive Cloud Security provides consistent, comprehensive security solutions to effectively manage digital innovation risk. With Fortinet Adaptive Cloud Security, leaders can rest assured their security architecture covers the entirety of the network attack surface, and that their sensitive data is compliant and secure.
Fortinet for Public Sector
Think outside the classroom
Linksys HomeWRK for Education | Secured by Fortinet offers the essential hardware and software needed to create an easily manageable remote learning network. Linksys Mobile provides connectivity for students without internet. Advanced security features support CIPA compliance, making sure the internet in each student's home is safe.
Ready to Learn More?
Contact us to discuss Fortinet solutions for your organisation.