About Poly
Poly empowers teams to work as one, wherever in the world they may be. With AI-powered solutions, distraction-free audio, and exceptional service, we erase distance and amplify the exchange of ideas. And we're not satisfied until no one can remember whether you were on the screen or in the room.
Partnership with SHI
SHI is a Platinum Poly national reseller authorized to sell Poly products and services in the corporate, Federal and SLED markets. SHI is a leader in voice and video collaboration with more than 20 years of experience in unified communication solutions.
Contact SHI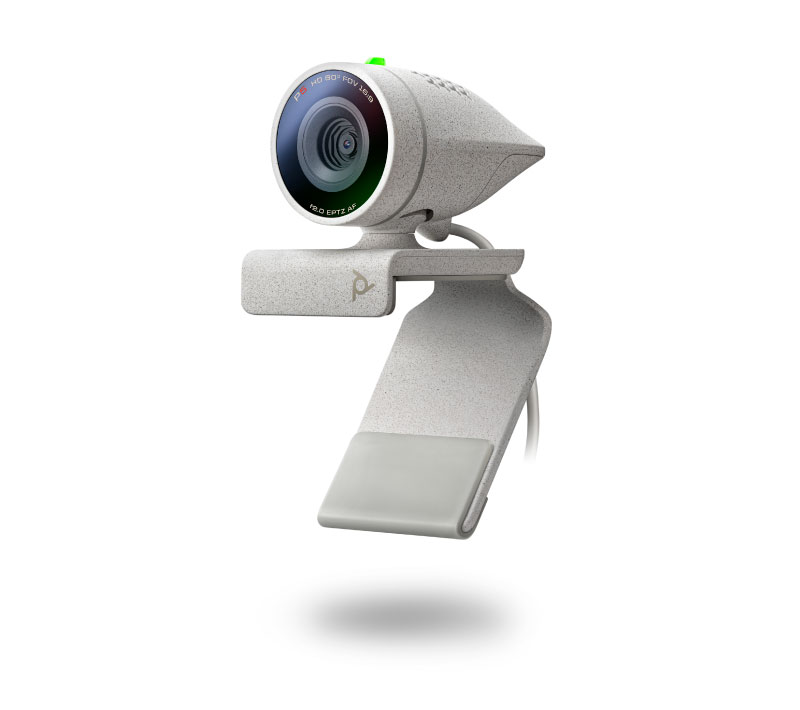 Precision-tuned webcams ensure you look your best.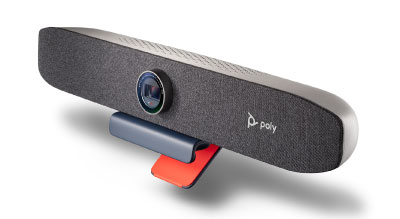 Sound good and look even better with the Poly Studio P15 video bar.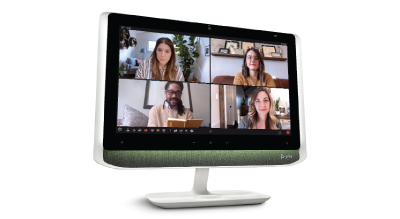 P21 Studio- Keep your workspace clean and clutter-free with a simple all-in-one USB-connected design.
Poly Microsoft Teams Rooms on Windows
Delivering Radically Simple Microsoft Teams Meetings
Take your Teams meetings to the next level. Poly Studio Room kits for Microsoft Teams Rooms offer mind-blowing audio and video for your most productive, focused calls ever. No one will miss a word or inflection with exclusive technology that blocks out distracting sounds.
Learn more
Shop Now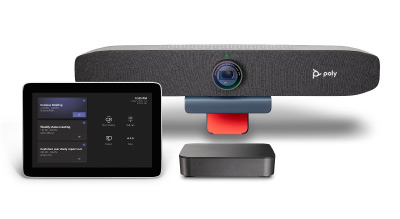 Poly Studio
The USB video bar built for small rooms and big ideas.
Combining the exceptional audio and video quality you expect from Polycom with the simplicity you need for everyday use, Poly Studio is the USB video bar ideal for smaller rooms and huddle spaces. Its plug-and-play functionality works with nearly any video platform and fits any budget.
Learn more
Shop Studio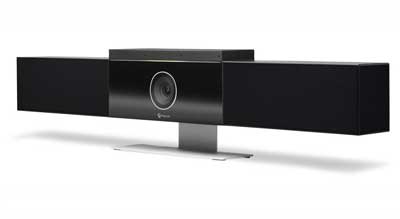 Poly G7500
Help teams share ideas and express themselves clearly—in Ultra HD 4K.
G7500 is deployment friendly too, with an intuitive user interface and flexible set-up that increases adoption and utilization.
Learn more
Shop all Poly G7500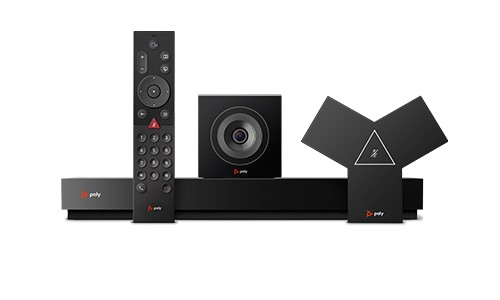 Studio X family
The Poly Studio X family Video Bars deliver radical simplicity in a single sleek device.
Now you can huddle happy in smaller rooms and connect easily in conference rooms with whatever video collaboration software you use.
Learn more
Shop Now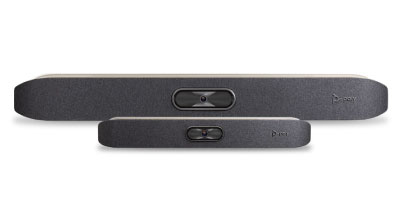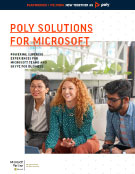 Learn more about Poly Solutions for Microsoft
Review Polycom Solutions for Microsoft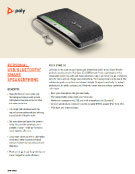 Sync Family comparison guide
Compare the Poly Sync Family smart speakerphones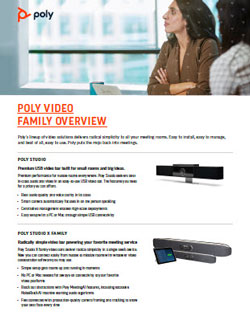 Poly Video Family Overview
Poly's lineup of video solutions delivers radical simplicity to all your meeting rooms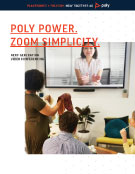 Poly Power. Zoom Simplicity
Poly brings next-generation video conferencing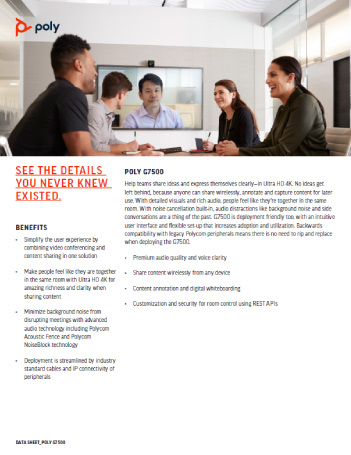 Poly G7500
Help teams share ideas and express themselves clearly—in Ultra HD 4K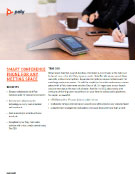 Poly Trio C60
Smart conferencing for any meeting space
Ready to Learn More?
Contact us to discuss Poly solutions for your organization.