Transform your Data Protection to
360 Data Management with NetBackup 8.0
Veritas 360 Data Management
A new foundation to enterprise data management.
The ability to transform your data into a strategic business asset starts with providing three core capabilities which together create 360 Data Management:
Visibility is a prerequisite to identifying and classifying the huge volumes of files being stored, to informing decisions regarding retention and compliance, reducing risk and managing storage more efficiently.
The ability to reliably move and orchestrate workloads across a heterogeneous IT landscape, including multiple clouds, is necessary to maintaining business resiliency and cost effective on-demand access to apps and data under changing conditions.
The IT environment must be reliably preserved to ensure it is always safe, intact and accessible with no service disruption; this demands scalable, fast and efficient backup and recovery of any environment (virtual, physical, open source or cloud) without disrupting operations.
Your key to 360 Data Management.
NetBackup is built to protect the largest and most demanding data center environments and delivers breakthrough capabilities for virtualized and cloud-based deployments that go well beyond what traditional backup practices can achieve.
Comprehensive - NetBackup provides support for virtually every popular server, storage, hypervisor, database, application, and cloud platform used in the enterprise today.
Scalable - High performance, intelligent automation, and centralized management based on a flexible, multitier architecture enables NetBackup to adapt to the growing needs of a fast-paced, modern enterprise.
Integrated - From backup appliances to cloud storage, NetBackup integrates at every point in the technology stack to improve reliability and performance.
Innovative - With hundreds of patents awarded in areas including backup, recovery, virtualization, deduplication, and snapshot management, NetBackup continues a long tradition of bringing advanced technologies to market first.
Proven - For over a decade, NetBackup has led the industry as the most popular enterprise data protection software by market share and is used by many of the largest enterprises on the planet.
Unified Data Protection -
Simple, Fast, Agile
Protect any workload.
NetBackup supports a vast array of environments and integrates with every layer of the infrastructure stack to unify your entire data protection strategy.
Operating systems
NetBackup integrates with dozens of server operating system versions, including Microsoft Windows®, Linux®, and UNIX® files.
Virtual systems
NetBackup integrates with leading hypervisors including VMware vSphere® and Microsoft® Hyper-V.
Databases and applications
NetBackup integrates with leading relational database and application platforms, including IBM DB2®, Microsoft® Exchange Server, Microsoft SQL Server®, Oracle®, SAP®, and others.
Storage systems
NetBackup protects data at the storage system level by integrating with various snapshot, replication and NDMP facilities from EMC®, HP, Hitachi, IBM®, NetApp®, and others.
Cloud platforms
NetBackup supports the backup and recovery of workloads within virtually any cloud environment by using NetBackup infrastructure hosted within the cloud.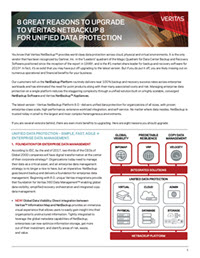 To learn more about how NetBackup can protect and transform your entire environment,
please contact us today!