About VMware
VMware is a global leader and pioneer in virtualisation, and an innovator in cloud and business mobility. VMware allows you to accelerate your digital transformation through a software-defined approach to business and IT. The trusted platform provider of choice for more than 500,000 customers globally.
Partnership with SHI
As a VMware advanced partner with 4 distinct competencies, including Business Continuity, Cloud Provider, Mobility Management and Server Virtualization , SHI is perfectly position to support you with your virtualised environment, or on your digital transformation journey.
Accelerate the Cloud Journey
Cloud Foundation makes it easy to deploy and run a hybrid cloud by providing integrated cloud infrastructure (compute, storage, networking, and security) and cloud management services to run enterprise applications in both private and public environments.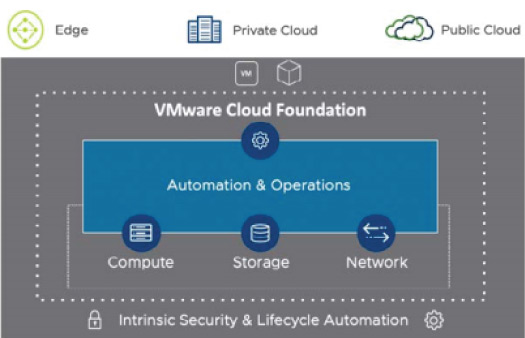 Delivering essential cloud infrastructure capabilities for some of the broadest, most demanding hybrid cloud strategies, VMware Cloud Foundation™ enables consistent infrastructure and operations for private cloud, public cloud, and edge scenarios, while providing flexibility around how to adopt and integrate VMware solutions into hybrid cloud strategies.
VxRail
Optimise ops. Anticipate needs. Evolve predictably.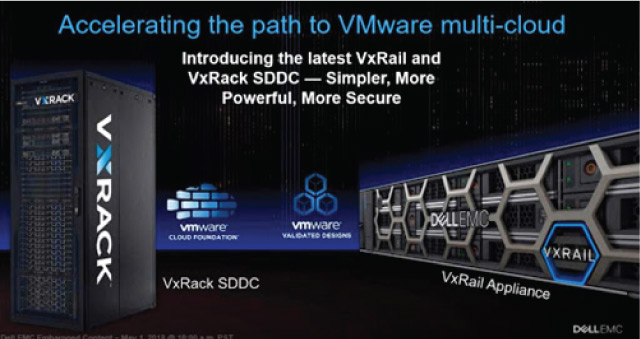 VxRail™ is the only fully integrated, preconfigured, and pre-tested VMware hyper-converged infrastructure appliance family on the market. Powered by industry-leading VMware Virtual SAN and vSphere software, the Dell EMC VxRail Appliance is the easiest and fastest way to simplify and extend a VMware environment while dramatically simplifying IT operations and lowering capital and operational costs.
Benefit from the latest vSphere Capabilities
Upgrade to VMware vSphere 7
VMware vSphere 7, the new generation of vSphere, is now generally available.
With vSphere 6.0 reaching End Of General Support (EOGS) in March 2020, organisations are making the move to VMware vSphere® 7, which delivers the essential services for the modern hybrid cloud. With vSphere 7, applications can be deployed using any combination of virtual machines, containers, and Kubernetes.
vSphere is the industry-leading server virtualisation software and the heart of a modern Software-Defined Data Center (SDDC), helping you run, manage, connect, and secure your applications in a common operating environment across clouds.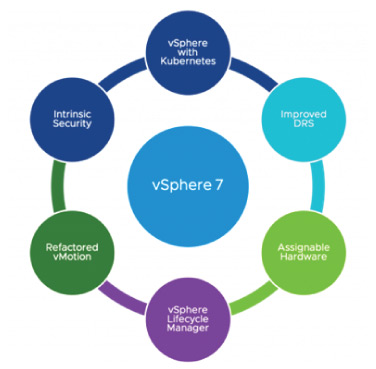 VMware Cloud on AWS delivers scalable, better secured and consistent infrastructure in the AWS Cloud. Leverage vSphere-based elastic capacity in the AWS Cloud across 17 Regions in under two hours. Protect your infrastructure with VMware Site Recovery DR in the cloud and spin up virtual desktop infrastructure with VMware Horizon 7 running on VMware Cloud on AWS.
Scale Remote Users in the Cloud
VMware Cloud on AWS delivers a scalable, intrinsically secure vSphere environment as a service in AWS Cloud, helping organizations alleviate potential business disruptions in three ways:
Infrastructure products supply chain and maintenance disruptions: Deliver infrastructure capacity in under two hours in 17 AWS Regions worldwide to handle urgent demand. Scale the infrastructure on-demand in minutes as needed.
Infrastructure risk mitigation: Provide proactive and automated disaster avoidance with VMware Site Recovery DR as a service and VMware Cloud on AWS.
Aid remote workers and alleviate travel restrictions: Provide VMware Horizon 7 VDI environments on VMware Cloud on AWS to enable a remote workforce.
For a limited time, VMware Cloud on AWS is helping customers get through this crisis with special offers. Please reach out to your SHI Account Team to discuss further.
Meet VDI Needs for Business Continuity
Enable IT to quickly provision virtual desktops and applications across on-premises, hybrid and multi-cloud environments with Horizon 7 and Horizon Cloud.
Enable your remote workforce to securely access Windows resources from anywhere. EUC teams gain simplified management of distributed Windows systems and the ability to easily scale physical or cloud capacity to meet growing demands.
As organizations of all types shift to work from home — government, healthcare, financial services, customer support, and others — they need to enable employee access to the specific desktop and application configurations necessary to perform their roles remotely. To help you enable or scale Horizon 7 and Horizon Cloud environments, VMware is offering:
Extended free trials of Horizon 7 on-premises, Horizon 7 on VMware Cloud on AWS, and Horizon Cloud on Azure for 90 days and 100 named users through July 31, 2020.
Special offers are available from the sales team. Contact your SHI Account Team for more information.
Empower the Digital Workspace
Employee expectations have changed. Meet them anywhere and on any device with secure, seamless access to apps and services through an integrated digital workspace.
To enable remote workforces seamlessly, VMware is offering:
Ready to Learn More?
Contact us to discuss VMware solutions for your organisation.