Microsoft Services from SHI
Get the full value of your Microsoft investment
Your biggest technology investments deserve the most care, such as expert licensing advice, certified cloud planning, professional training services, or ridiculously helpful customer management.
Talk to an SHI Microsoft expert
While there are many Microsoft Licensing Solution Providers (LSPs) to choose from, many fall short in offering the complete end-to-end Microsoft experience we deliver to our customers, backed by in-house Microsoft expertise to meet service levels, demonstrate innovation, and proactively manage accounts/agreements.
It's important to have the right partner in place to help you maximize ROI on your Microsoft environment – one that demonstrates leadership and commitment to Microsoft technologies and adds transformational capabilities like deployment, implementation, training, and managed services to get you the most out of your investment.
Let SHI find the right Microsoft solution for your business
By working with our Microsoft experts, you benefit from a full range of in-house strategic services designed to support you in migrating, modernizing, optimizing, and managing your Microsoft environment – whether that be through a three-year Enterprise Agreement (EA) or a flexible Cloud Solutions Provider (CSP) offering.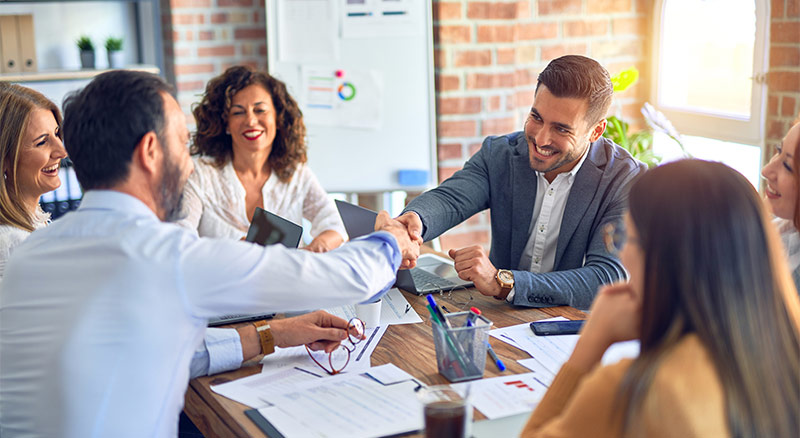 Checklist: what your next Microsoft partner should look like
Is your current Microsoft partner providing the licensing expertise, delivery capabilities, and optimization services you need to maximize the value of your investment?
If you're happy with your Microsoft partner and the overall Microsoft customer experience, this ebook isn't for you. But, if you've got doubts and are wondering what great really looks like, this checklist will help you make the right choice for your next Microsoft partner.
SHI as your trusted Microsoft partner
Here are just a few reasons why thousands of organizations like yours continue to trust SHI as their go-to Microsoft partner.
An experienced partner that knows Microsoft
SHI's vast reach across the Microsoft ecosystem – between other partners and technology providers, as well as companies of all verticals and sizes – demonstrates our breadth of knowledge on how the various technologies can support your business and allows us to collaborate and integrate with other providers that work within your existing Microsoft environment.
A dedicated team of Microsoft license experts
Our strong background in software licensing and our sizeable team of Microsoft specialists offer insight and advice across the full portfolio of software products and licensing options. SHI's dedicated team of reputable Microsoft license advisory experts are here to help you safeguard against compliance risk and license your environments in the most cost-effective way.
A partner that proactively saves you money
We care about your overall spend and work with you to identify and present opportunities to realize cost savings on your Microsoft investment. Our 365 Insights service is provided as a complimentary offering to all SHI Microsoft customers, helping them avoid paying for unused subscriptions while optimizing the adoption and consumption of technology.
Demonstrated leadership and innovation
Backed by hundreds of certificates, awards, and advanced specializations, SHI has met specific criteria demonstrating the highest levels of expertise in both Microsoft services and products. With gold certifications in cloud platform, communications, Windows, devices, and application development, we have the talent, technology, and services to guide you on your Microsoft journey.
Proactive, ongoing communication
If your partner isn't coming to you with insights and opportunities to optimize, they're not doing their job. Your dedicated SHI Microsoft team takes the lead on establishing a regular review cadence, to ensure you have time to understand things like consumption and licensing while discussing and exploring ideas to support cost savings and the adoption of your Microsoft technologies.
Adoption and Change Management capabilities
SHI is just as committed to training, adoption, and consumption as we are to finding you the right technologies and solutions for your business. We address training and effective adoption and change management at the outset, so your overall Microsoft strategy includes a plan to equip your users with the skills and knowledge they need to maximize their productivity.
You might also be interested in: